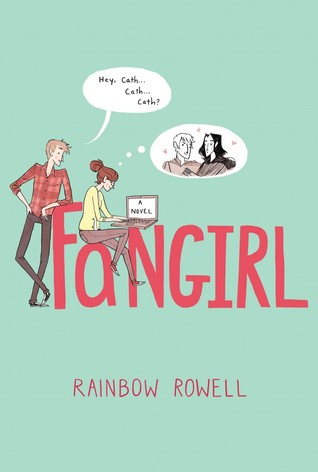 My Rating:
5 stars
Date Read:
April 25, 2014
Published:
September 10, 2013 by St. Martin's Press
Genres: Young adult, romance
Summary: Fangirl is about Cath, who is a huge fan of a series called Simon Snow. She and her twin sister Wren used to be very close, even writing fanfiction together, but in college Wren wants to meet new people. This puts some distance between them and causes problems for Cath, who has anxiety issues and is not great at socializing.
Review: Early on we meet the cast of characters: Her roommate Reagan, Reagan's friend Levi, and a boy Cath writes with in the library named Nick.
I loved the characters. The main character, Cath, was realistic and easy to relate to. It was nice to read her thoughts and watch her grow throughout the story. At the beginning I expected a love triangle with her, Nick, and Levi, but I'm very glad there wasn't one.
The writing style was great, too. The little bits of the Simon Snow books and Cath's fanfiction were a great addition, although I wasn't too sure about them at first.
Another little thing that I liked was that Cath was a writer - and she thought like one. Whenever she began to overthink words or anything similar, I couldn't help but smile.
This book is definitely a favorite for me. It's one of those books that, right after I finished, I wanted to re-read. I would recommend it to absolutely anyone.