Quick Facts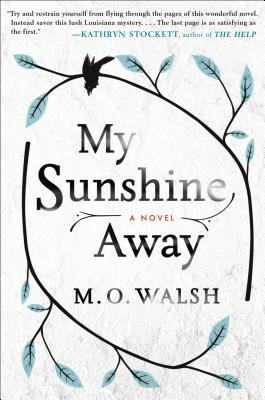 My Rating:
4 stars
Series: N/A
Date Read: January 29, 2015
Source: Free review copy from Edelweiss
Publication Date: February 10, 2015
Publisher: Penguin
Genres: Adult fiction
Summary (taken from Goodreads):
It was the summer everything changed.…
My Sunshine Away unfolds in a Baton Rouge neighborhood best known for cookouts on sweltering summer afternoons, cauldrons of spicy crawfish, and passionate football fandom. But in the summer of 1989, when fifteen-year-old Lindy Simpson—free spirit, track star, and belle of the block—experiences a horrible crime late one evening near her home, it becomes apparent that this idyllic stretch of Southern suburbia has a dark side, too.
In My Sunshine Away, M.O. Walsh brilliantly juxtaposes the enchantment of a charmed childhood with the gripping story of a violent crime, unraveling families, and consuming adolescent love. Acutely wise and deeply honest, it is an astonishing and page-turning debut about the meaning of family, the power of memory, and our ability to forgive.
This book is not narrated by Lindy Simpson, but it is her story. It takes place in a quiet neighborhood, and many people are shocked to hear of Lindy's rape. There are several suspects, including our narrator - and it doesn't help that he's obsessed with her.
In the beginning, this book was difficult for me to get into. Firstly, because I am used to young adult books, and did not expect the details to be so "adult" in this book. The bigger problem was that many issues were dismissed as normal - for example, the obsession with Lindy was justified as a crush.
Around the middle, things started to become more clear. The narrator was called out for his obsession. He began to turn around as a person, although I admit it was still difficult to like him. I kept waiting for him to do something stupid.
Luckily, I don't need to like a main character to enjoy a book. This one was written beautifully, although I could have done without some of the descriptions. I skipped a couple of paragraphs, not because the writing was slow, but because of details I did not want to hear. For example, there was a case of animal cruelty depicted that I had to skip over. (And it was a dog death. I hate when dogs die in books.) However, I do admire the way that nothing was held back.
Overall, this one was darker than I expected. It was suspenseful, but in a quiet way, and I was hooked throughout the story. The mystery aspect was done well and kept the reader wondering. The format was also really cool, with the memories being told and pieced together, and I loved the end.