It's been awhile since I shared my anticipated releases with you guys, so here I am! I have two contemporary, summery books that I really cannot wait for. These are both books that I'm likely to read the moment they are released.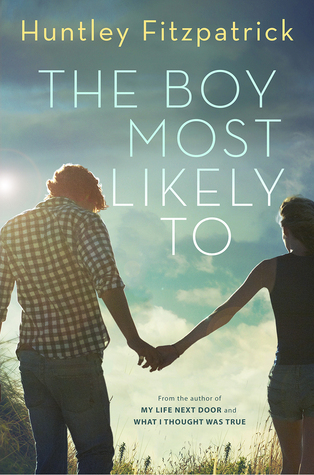 First of all, we have
The Boy Most Likely To
by Huntley Fitzpatrick. It seems like I've been waiting on this one forever, although I know there are people who have waited longer than me -- I read
My Life Next Door
a bit after all the hype. Still, I will be buying and reading this the very day it comes out, no doubt in my mind. I've even tried getting an advanced copy in many ways -- I requested an ebook review copy, I've entered giveaways ... Looks like I'm destined to wait until release day, though!
Second is
Hello, Goodbye, and Everything In Between
by Jennifer E. Smith. I have mixed feelings waiting for this one, because I have read three of this author's books. Two I loved
(The Statistical Probability of Love at First Sight
and
This is What Happy Looks Like)
and one
(The Geography of You and Me)
was just ... okay. I admit I was pretty disappointed, and it doesn't help that it was the latest released -- which always makes me wary of the
next
release, of course.
Still, I had such a great time with the other two books that I really want to give this one a chance, and I still am excited about it. While I might not get to reading it right away for those reasons, there's still a good chance I will! And if not, I'll definitely be reading it sometime. (Also, I need to read more of Jennifer E. Smith's earlier releases. Because I checked Goodreads just now, but before then I had no idea there were so many!)