I've been slacking when it comes to blogging and reading lately, so I decided to share my weekend plans with you guys. Hopefully by typing it all out, I will actually stick to doing what I want to do these next few days.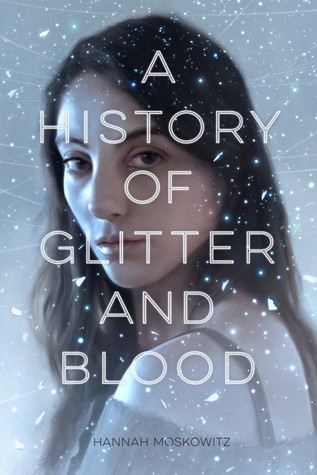 First of all, one of the most important things I need to do is
read.
I thought I would have finished
A History of Glitter and Blood
by this week, at the latest, yet I only started it last night. This one definitely has to be finished before July 1 if I want to complete my monthly goal of reading only diverse books. I don't want to fail before the month even begins, but I won't put aside a review book due to a challenge I set for myself, either.
Next, I need to type up some reviews! I'm never behind on reviews, I always write them right away ... And yet, this past month I have let myself put off reviews to the point where I have about three or four sets of notes just sitting around, waiting to be typed into actual posts. And while I know that isn't a lot for some bloggers, for me it definitely is! I never get more than two reviews behind. Last week, I actually had to change my post schedule simply because I didn't have a review ready that I thought would be finished by then. (And I was too lazy to write it, still!)
My third weekend goal is to take some book photos. I've realized that posts on my
new blog
take much longer. Mostly, because it has made me more passionate about blogging again. I like my new ideas and I
want
to spend time on them. But also, pictures. I can only take them during the day, when there's sunlight. (At least, if I want a decent picture.) So while I can post reviews to this blog whenever, I have to be more careful about scheduling reviews on
BookMatcher.
I can't do them so last-minute,
unless
I have pictures ready beforehand. Which I will, because there is no way I will have reviews ready on time if I don't. I'm a procrastinator!
Finally, my last goal is to keep up with planning my novel for Camp NaNoWriMo. I've come up with some great ideas the last few days and I'm really getting to know my characters well, but I'm lacking some of the research I'll need to write the story -- and I don't want to be spending hours of writing time next month doing research I could have done
now.
I also need to develop some side characters I've been neglecting.
And that's all for me! What are your plans for the weekend? Is anyone else participating in Camp NaNoWriMo next month?