Quick Facts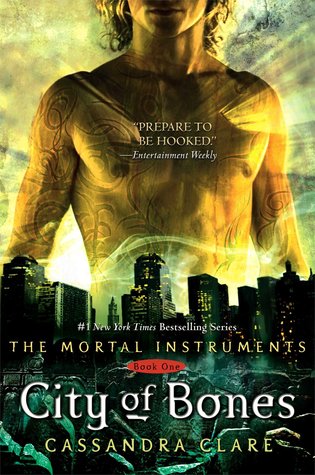 My Rating: 3.5 stars
Series: The Mortal Instruments, Book 1
Date Read: May 17, 2015
Source: Purchased ebook
Publication Date: March 27, 2007
Publisher: Margaret K. McElderry Books
Genres: Young adult, paranormal
Review
When Clary sees people nobody else can, she ends up following them - and witnessing a murder. She is told the dead boy was a demon, and his body
did
disappear, so she doesn't know what to think. From then on she is absorbed into the world of the Shadowhunters, as they want to know what gives her the ability to see them - and Clary needs their help to find her mother, who disappeared from their home and is nowhere to be found.
For a long time, I have had no interest in continuing this series. After reading book one way back in 2012, I didn't remember anything, and I'm not much of a re-reader. But then I hit a bit of a day-long reading slump when none of my current reads interested me. I began picking up books at random. I don't know what made me choose this one - I already had it in my head I would never be reading this series. For whatever reason, I ended up reading the first few pages, then getting pulled into the story - mostly because I didn't remember hardly anything!
Although it was a long time ago, and I knew my memories of the book were vague, I thought I would recognize the words, the entire story line. Instead, the first few chapters were like reading a brand-new book. Once things got going, I began to remember most of the plot details - but it still amazes me just how much I could forget about a book in the span of three years.
Of course, I'm also a much different reader now than I was three years ago. I remember my initial reaction to this story - I was wowed by it, as I was most books. I wanted the rest of the series right away. (Which is silly, isn't it, when you think that I still haven't read them three years afterwords?) While I don't feel quite the same anymore - my previous five star rating has gone down. Still, I think this is a solid beginning for the series, and I do plan on reading book two very soon.
Another interesting thing during this read, besides my realization of having a terrible memory, was that I have now read Harry Potter. I heard the talk of the similarities before, and this time I was really able to see what people had been talking about. Of course I saw the parallels, although they have their differences as well. Most notably, to me, was the tone. This book felt more fun, fast-paced, and dramatic. Harry Potter, to me, was a more serious, quiet type of series.
Getting into the book itself, I think most of its appeal comes from the fast-paced plot. I picked it up in need of something quick and easy to read, and it definitely was that. The characters were alright, but I can't say I felt a lot for them - this was just so plot-driven. I did think their character arcs were done nicely, and especially liked how even side-characters got the chance to change and grow. But until the very end, the story never slowed enough to really let the changes - or much of their personalities - show. I do hope to get to know them better throughout the series, but this first one is a bit disappointing on that level.
The writing, while it flowed easily in most places and was easy to read, did have its flaws as well. It's probably because I write myself, but some parts distracted me, especially when it came to dialogue - at times I would sit back and ask myself, would anybody actually say that, though?
Still, I feel like I've pointed out the flaws in this review far more than the good aspects - and this was definitely an intriguing story. I read it in two sittings, although they were about a week apart from one another, and it was nice to have such a spontaneous, non-stress read for when I needed it, between review books and my monthly TBR. I'm eager to keep reading the next books as well, despite the fact that I've seen far too many spoilers!