Quick Facts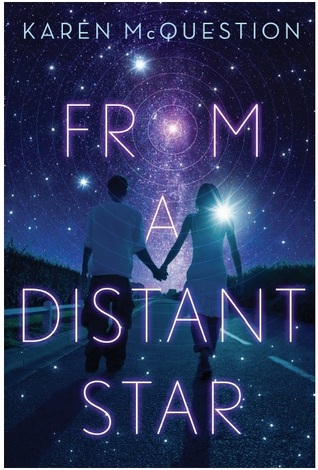 My Rating: 4 stars
Series: N/A
Date Read: April 29, 2015
Source: Review copy from Netgalley
Publication Date: May 19, 2015
Publisher: Amazon Publishing
Genres: Young adult, science fiction
Review
When Emma's boyfriend, Lucas, was diagnosed with cancer, people seemed to give up on him right away. Even his own mother seemed determined he would not make it, especially as things grew worse. Lucas entered a coma and doctors said he had very little time left - perhaps a couple of days.
Emma just knows that Lucas is strong enough to make it through. They had too many future plans, too much love, for him to just die. So she goes to see a woman who is known for magic. She gives Emma a potion to cure Lucas and a warning that he might not be the same, after coming back from the brink of death.
She could not have expected that her boyfriend would actually turn into a different person - or that his body had been taken over by an alien who was trying to make it home.
I have to be honest and say that I felt kind of awful and spoiler-y when typing that summary. The truth is, all of that information is given within the first few chapters. But should it have been? I don't think so. Books with multiple points of view can either be benefited from it, or harmed, and I think that seeing from the alien, Scout's, eyes did more harm than good. If the three or four chapters that were not in Emma's point of view had been left out, it would have left space for some more mystery in the story - instead of knowing the truth, readers would have been left guessing.
Setting that aside, though, I really enjoyed this book. It was difficult to put down, so much that I planned about a week's reading time (I've been an awfully slow reader lately), but read it in two days. The writing was great and very easy to read, and I really enjoyed the fast pace. It kept up throughout the book and made for a really fun, addicting read.
The characters were also great. I liked the contrast between Scout and Lucas, and seeing each character develop. It was especially nice to see Emma, who had been so dependent on Lucas before the cancer, learn to take charge and use her strengths. Scout had a wonderful personality overall, and his empathy made me stop and wonder at times what people would be like if we could read each others thoughts and emotions like those on his planet could. So many of the characters, Emma included, had a strong sense of love and caring for others, and that was so admirable and nice to see.
Overall, although it had a few faults, I really enjoyed this one. It's an enjoyable, fast-paced read that I would definitely recommend, especially to those who like science fiction and books that feature aliens. I'm pretty sure this was the first book I ever read with aliens in it, though, and I have to say that it was a nice introduction for me, although I'm not sure any others could compare to Scout's sweetness and compassion for others.