Quick Facts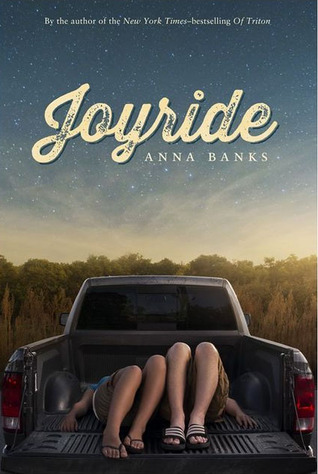 My Rating: 3 stars
Series: N/A
Date Read: May 14, 2015
Source: Review copy from Netgalley
Publication Date: June 2, 2015
Publisher: Feiwel & Friends
Genres: Young adult, contemporary, romance
Goodreads
|
Author Site
Review
Carly is just trying to fly under the radar until she and her brother earn enough money to bring back their parents, who were deported to Mexico years before. Arden is trying to do anything he can think of to make his father, the sheriff, angry. When these two come together, their goals obviously clash.
Arden, who used to pull pranks with his older sister, is seeking another accomplice. Amber has been dead for some time, and he didn't realize how lonely he felt until Carly entered his life. He knows that she is holding herself back and that she wants to have fun, he just doesn't realize why.
Carly tries to avoid Arden, but he makes it difficult. And as Arden refuses to give up, she realizes that she might not want him to.
Part of me wishes I didn't finish this book. I went into it expecting less romance, and for more of the issues in the book to be touched on. Instead, I feel like the romance took over the plot - or maybe it felt that way because I did not like Arden.
From the start, Arden was too forceful. Him being right about what she wanted doesn't excuse that he forced Carly into a lot of situations she told him she didn't want to take part in. He stalks her home from school - while thinking that it would sure look like he was stalking her, even though he "wasn't" - and even steals her bike to get her to talk to him, although she's made it clear she doesn't want to. He gets her a higher-paying job, which was nice of him - except then he wants her to quit working her other job on week days, and spend time with him instead. It seems that, no matter how many times Carly explains that she needs the money, he doesn't believe her.
He's not an unrealistic character, though. I understand that his privilege would get in the way of him understanding Carly's money issues, and that he has his flaws which create his problems with being so pushy - he isn't just that way with Carly, but also with his uncle at the beginning, and his pranks show that attitude often as well. But it was difficult for me to get past his flaws, and I really did not want him and Carly together.
One thing I did like was the balance in this book. It switched easily between cute and real. I did try to like Arden, and it worked sometimes. A scene that stuck out to me was when he mentioned ordering black coffee in front of Carly because sugar and cream did not seem "manly." He did go out of his way to impress Carly a number of times and, although he went about it wrong (The girl doesn't care how you like your coffee, Arden!), the emotions there were still sweet to read about. Right after this scene, though, he gets a phone call from his depressed mother, asking him to pick up the medication she's very dependent on after her daughter's death. Then he goes straight to work helping his alcoholic uncle with housework.
At the same time, I feel like all these issues were more interesting than Arden and Carly's relationship. It would have been nice to read more about their family life, and to have all that more fleshed out than it was. And many of these things resolved too quickly, and often unrealistically, at the end. There was also a bit of a time-jump once we did get to the interesting stuff, which felt really disappointing - the plot was finally picking up, and then most of the action was skipped or glossed over.
Overall, I think this would be a better read for those who enjoy the romance. It really was the main plot of the book, and this will likely be a great read for those who like Arden, or who like the idea of him and Carly together. I just didn't enjoy the romance much, and saw so much potential in the side-plots here, very little of which seemed to follow through.